As the television's advertised size doesn't reflect its actual size—frames and all—it isn't easy to estimate how big a stand you'll need. A TV's dimensions only consider the diagonal measurements of the screen, making it difficult to distinguish between the horizontal and vertical measurements. Thus, many find the TV area the most challenging spot to style in their homes.
TV Stand Size Guide
To help you out, here's a TV stand buying guide that will give you an idea of the best TV stand size for you and how you can decorate it to make your TV area stand out.
Before choosing the best stand size for your TV, you'll need to know the width of your TV. However, TV sizes are typically measured diagonally, not considering the frame itself. You'll need a measuring tape and check the span of your TV from left to right. If you don't have any measuring device at home, you can always search for your specific TV model's size on the internet or call the manufacturer.
Choose a stand wider than your TV
Now that you've got your TV's width measurement, you'll need to check the width of the stand. To prevent accidents and people tipping over, choose a TV stand wider than the appliance itself with ample space to support the width of your TV. Apart from the aesthetics, a wide stand is crucial for safety reasons.
Everyone gathers around the TV to hang out and watch. It's one of those essential pieces of furniture that captures the eyes of the people in the room. Therefore, many homeowners focus their decor around the televisions and make them the focal point of the living or family room.
If you're planning to do the same for your home, having a wide TV stand is important to have enough space for décor without compromising the appliance. You can choose from a wide range of entertainment centers and TV stands to help you design your television.
Not sure what TV stand is good for your TV area? Here's a TV stand size guide to help you out.
| | | |
| --- | --- | --- |
| TV Stand Size (inches) | Recommended Minimum TV Size (Diagonal) | Recommended Maximum TV Size (Diagonal) |
| 30" | 34" | 38" |
| 35" | 39" | 43" |
| 40" | 44" | 48" |
| 45" | 49" | 53" |
| 50" | 54" | 58" |
| 55" | 59" | 63" |
| 65" | 70" | 73" |
| >70" | 70" | >70" |
How to Decorate a TV Stand
1. Stick to neutrals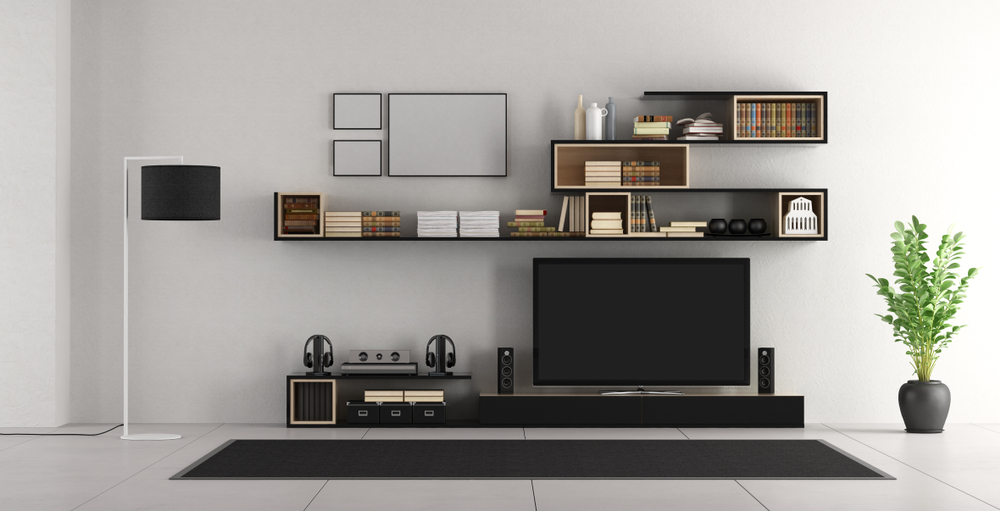 Keeping things neutral is perfect for TV stands with lavish designs, like the Picardy entertainment center with its gold lining and elegant curves. For a contemporary-minimalist look, a neutral-colored stand, such as the Noralie TV stand, goes well with soft, muted colors, having similar tones, heights, and shapes. This gives your room a clean and fresh look that's pleasing to the eyes.
2. Choose three to four pieces for the stand
One of the common design mistakes for TV stands is a clutter of random décor pieces, which only adds too much visual noise. Instead, choose a limited number of décor pieces that perfectly match your TV's aesthetics. For example, you can line up the surface of the Brandcaster TV stand with a lamp, some books, or a statement piece to turn the tin-looking stand into a modern and sleek one.
3. Create an accent wall behind the TV
Want to make your TV look like artwork? You can turn its background into an accent wall by lining up several pieces of artwork with colors that complement each other. Add color using paintings for neutral-colored TV stands. Shiny wood TV stands like the Vendome II TV stand can do more with monochromatic pictures scattered on the wall.
4. Introduce pops of color
You may be one of those whose tastes lie different from a monochromatic color scheme. If that's the case, injecting an array of colors may be for you, especially for plain-colored stands like the Artesia entertainment center. You can use light-colored designs, including flowers, statement pieces, and more, to brighten TV stands with dark wood material, such as the Apison entertainment center.
5. Select a TV stand with drawers or cabinets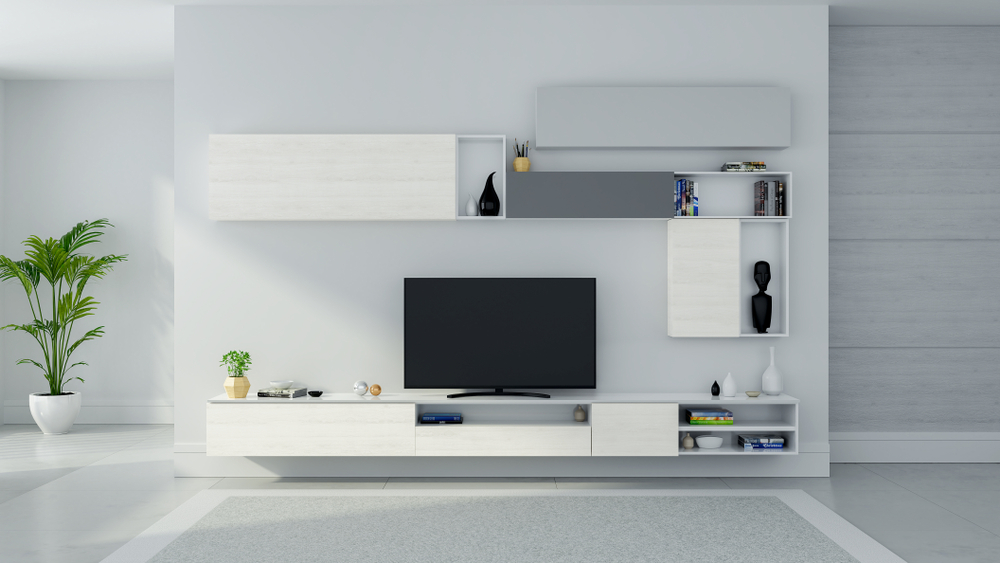 If you don't like drilling permanent holes onto your walls, you can choose a TV stand with drawers and cabinets. The Versaille entertainment center lets you keep designer vases enclosed within a glass drawer, giving it a more luxurious look. Meanwhile, the Versaille TV stand can hold various TV peripherals in one place, so you won't have to go around searching for them.
6. Pay attention to your cable management
The cables from the TV and its peripheral devices can add to the clutter, even becoming a safety risk in your home. You need to keep wires in order and untangled so they won't interfere with each other, and open-background TV stands like the House Delphine entertainment center can help you do just that.
Give Your TV A Fitting Home
Whether in a living room or a separate family room, the TV area is where your family and guests gather to spend time together. That's why decorating this space can help make your home feel cozy and inviting. However, designing it can be difficult, especially if you're unsure what TV stand size you should buy for your TV.
Ensure that you get the right measurements, including the available area, your TV's actual size, and the recommended stand. This way, you can easily find the right TV stand for your appliance.
If you're looking to spice things up in your TV area, Direct Marketplaces offers a variety of entertainment centers and TV stands, making your TV the centerpiece of your room. Contact us for recommendations on TV stands that go well with your entertainment set.
Recent Posts
Get ready to take your outdoor entertaining to the next level with a sectional dining set. Whether y …

Welcome to the ultimate guide to bathroom furniture storage solutions, where we show you how to m …

Welcome to our comprehensive guide on bed size comparison! In this article, we will unravel the myst …